ANNOUNCEMENTS AND SHENANIGANS
We  had a fun week last week. We continued our research on either George Washington and Abraham Lincoln and are finishing up our research writing on them. We wrapped up interdependence and started discussing needs and wants. We are continuing our conversations on place value and comparing numbers. Valentine's Day was a fun treat on Thursday. Thank you to all the parents that came to volunteer and of course our amazing room moms, Shweta Arora and Ricki Ahearn, who helped organize the party for the class. I definitely felt the love from all of you. Thank you for your sweet treats, cards, beautiful flowers and lovely gifts!
We had our parent reader on Friday afternoon. Juliette's dad came and read to us. They really enjoyed The Book With No Pictures.
I hope you all enjoy your long weekend. Remember that students do not have school on Monday, February  18th or Tuesday, February 19th. We will see everyone back on Wednesday, February 20th!
We enjoyed learning more about our friend Juliette this week while she was the superstar.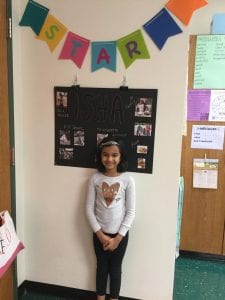 Library Spring Reading Incentive
The library Spring Reading Incentive is in full swing! Packets with reading logs have gone home. All reading logs are due February 28 to receive your free theme park tickets. For Six Flags, read 6 hours. For Schlitterbahn, read 10 hours. The same reading can be used for both, but the but the two reading logs need to be filled out individually. You can get another copy of the form HERE or on the LIBRARY WEBSITE.
Checking Library Accounts from Home  
Did you know that you your student can check their library accounts from home? All you need is their student ID number (without the "s") CLICK HERE or THIS PAGEon the library website to learn how!
SUPERSTAR:
We will not have a superstar this week since it is a short week of school. We will have our next Superstar the week of February 25th.
THIS WEEK AT A GLANCE: 
LANGUAGE ARTS:
-Introduce poetry and sensory language
-Create a list of things we can write a poem about
-adding details to stories we write
-Continue building our handwriting skills
MATH:
-Review place value: tens and ones
-Compose and decompose numbers into tens and ones
-Compare numbers using tens and ones
-Add using tens and ones
-Use objects, pictures, expanded and standard form to represent numbers to 120
SOCIAL STUDIES & SCIENCE:
-Discuss goods and services
HOMEWORK: 
Read 10-15 minutes each day.
Record 4 responses for the week.
IMPORTANT DATES TO REMEMBER:
Feb. 18 and 19: Student Holiday/ Teacher Staff Development
Feb. 22: Twin Day
Feb. 22: Parent Reader (Natalie S.'s Family)
Mar. 8: Multicultural Fair @ 5:30 PM